March 18, 2012
Filed under Book Review, Middle Grades
Tags: adventure, book review, children's book, clean fiction, four-quills, margaret peterson haddix, middle grades, Mystery, science fiction, simon&schuster, the missing series, time travel
leave a response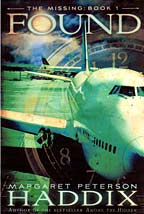 Title: The Missing: Book 1 * Found
Author: Margaret Peterson Haddix
Publisher: Aladdin Paperbacks, Simon & Schuster
Format: paperback ($6.99)
Length: 314 pages
Release Date: April 21, 2009 (reprint edition)
Genre: Middle Grades – science fiction
Available at: Book stores everywhere
Summary: Who are Jonah and Chip anyway? Even they don't know. When cryptic messages start showing up in their mailboxes, they suspect they may be in danger. The two boys, along with Jonah's adoptive sister, Katherine have a mystery to solve: the letters, the trip to the FBI office, strange people appearing and disappearing at will…what is going on?
Review: Talk about leaving you in a position where you HAVE to read the next book in the series. You are thrown right into the mystery at the very beginning and the suspense builds seamlessly to the end. But it's not the end. It's only the beginning.
Recommendation: Great read for those interested in science fiction and time travel. Geared towards young adult, but intriguing for any age. Four quills:
Guess I'm gonna have to pick up Book Two!
February 26, 2012
Filed under Book Review, Children
Tags: board book, book review, children's book, God Gave Us Love, kids' book, Laura J. Bryant, Lisa Tawn Bergren, love, polar bears, teaching, three quills, waterbrook press
one response
Title: God Gave Us Love
Author: Lisa Tawn Bergren
Illustrator: Laura J. Bryant
Publisher: WaterBrook Press
Format: Board Book
Release Date: 2011 (the copyright date inside the book says 2009)
Number of Pages: 22
Target Age Group: 2-5 years old
Summary:  Little Cub is irritated by the noisy otters. Grampa calms her down by explaining how God wants us to love others. Little Cub is confused because there are different kinds of love. Grampa explains what God expects of her and she asks God to help her show His love to others… even the otters.
Review: This is the first children's book I have read for review. The illustrations are well done, the characters are cute and lovable. The message is a good one for everyone to hear, since it reminds us that even when people do things we don't like we should still endeavor to love them the way God does. Unconditionally.
As far as board books go, it seemed like it had a lot more words than a two to five year old would typically sit through, but it did explain love on a level children can understand.
Recommendation: God Gave Us Love is a book to read together with young children, though it may stretch beyond the attention span of the age group. The message is important and can stand to be repeated. I give this book three quills:
I received this book from WaterBrook Press for my honest review.